Shadow of Covid on Ramlila, city's Ravana effigy makers fear another lost year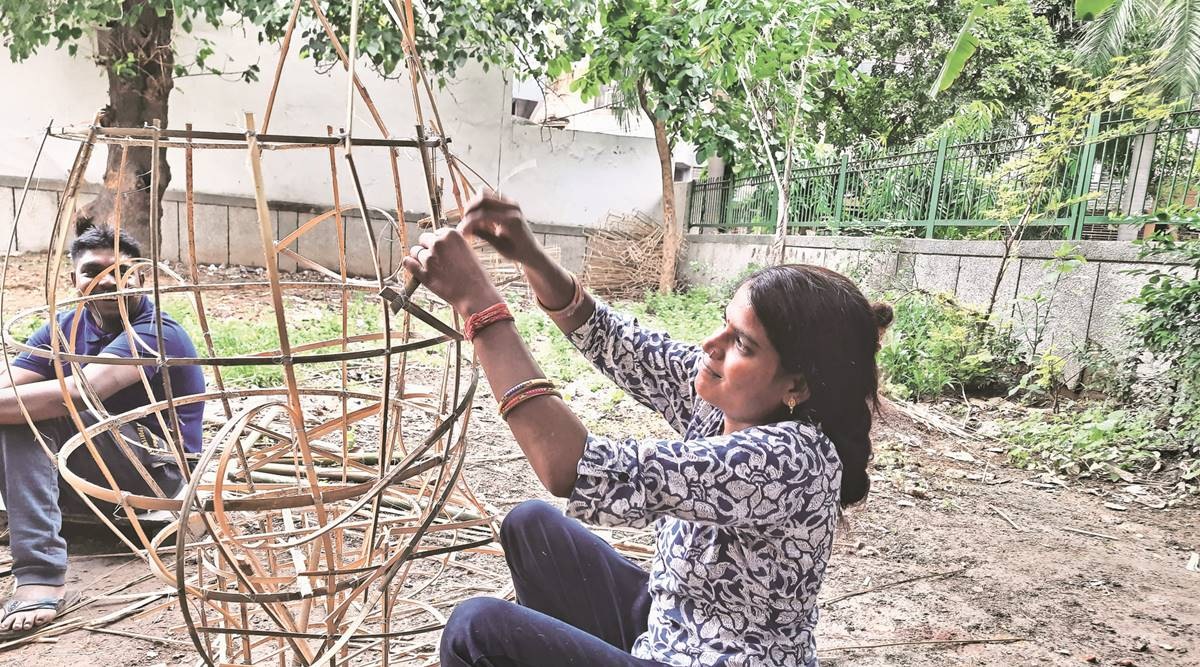 Bamboo strips are measured, twisted and bent to make effigies of Ravana in front of Dussehra in the corners of Titarpur in West Delhi, but the manufacturers, harassed by Covid-related restrictions on celebrations and gatherings, are expect another year of bad sales.
Friday afternoon, at Micheal Ekka's booth near Tagore Garden metro station, two workers were handcrafting the bamboo frames that form the basic structure of the effigies. "Before, we received orders for large effigies 40 feet high once assembled. Since the Ramlila events are unlikely to occur this year as well, we have reduced the size of the effigies to between 5 feet and 15 feet. There were hardly any sales in the last year and the fear of another foreclosure has kept some of us from hiring more workers. ," he said.
The painstaking work of making the bamboo frames – one frame for each part of the body – followed by painting and decorating usually begins in Titarpur about a month before Dussehra, but Micheal's stall is the only one on the sidewalk for the moment.
Requests for custom Ravanas with specific characteristics – particularly angry eyes or massive mustaches – were regularly filed, some even in shopping malls in Bengaluru, Micheal said. This year, just like last year, it has yet to secure such an order.
Others, like Bobby Mehra, who runs Shankar Ravanwale, said they made effigies at home. They received online orders this year from outside Delhi, although demand in the nation's capital was weak last year and is not expected to pick up again this year, Mehra said. Income from the sale of effigy at this time of year must be supplemented by other work. Mehra, who has been making effigies for about 30 years now, returns to the job of a driver the rest of the year.
In another corner of Titarpur, inside an MCD park, Poonam Kashyap ties bamboo strips together to make big faces for the Ravanas. As she effortlessly splits larger and thinner strips with a sharp knife, she emphasized that the job is not easy. "It comes with years of watching and learning from others who do it," said Kashyap, who has worked there for 20 years. The park is usually filled with people making the effigies, she said, but her family was the only one present on Friday.
Kashyap is helped by three siblings and has always loved artistic work.
"Since we have no other job, the orders at this time of year were supporting us. But with very few sales last year, it became difficult, "said Rema Pawan Kumar, Kashyap's sister.
Rema's husband also makes effigies and has no other source of income, she said. Last year, they only sold five effigies.
Arrowroot, paper, paint and decorative material are used to make the Ravana from the bamboo frames. In Titarpur, children learn skills from older manufacturers, Micheal said. Kashyap's daughter, still very small, tries to split a piece of bamboo next to her.
Micheal himself has been making effigies for as long as he can remember.